Check out details for the newly-revised Limestone Rodeo, and sign up here!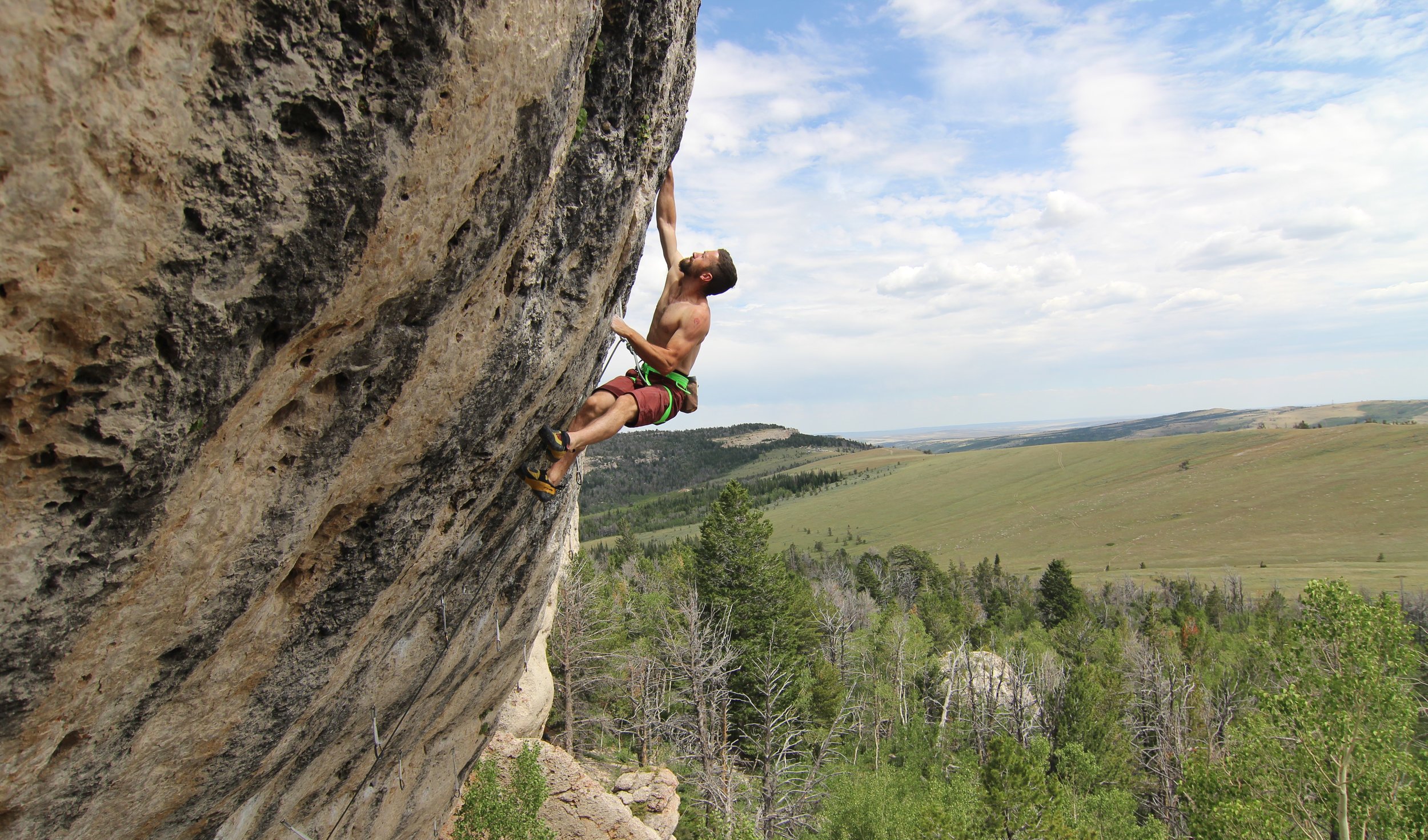 RODEO RULES THIS YEAR HAVE CHANGED!
Ticketed attendees only
The Limestone Rodeo 2019 is a red-point partner competition with some fun rodeo-themed bonuses. Competitors are only allowed to climb routes that are in the 2019 Rodeo Hall of Fame, a list of 100 2-3 star routes. Point values are assigned to each route, roughly based on grade but with some added twists. It is a partner competition where partners much match each other pitch for pitch but not route for route. Up to the top 12 routes in terms of point value will be counted for each partner towards the team total. Bonuses must also be matched by partners to count towards the team total. Routes can be "double-dipped", i.e. used for the main top 12 and for applicable bonuses. Each category (Open, Advanced, Intermediate) will have three team winners.
There will also be an overall individual winner of the entire Rodeo based on total points (top 12 routes plus any bonuses achieved by that individual, regardless of if partner achieved them).
Categories
Intermediate - routes up through 11b are red-pointed on Saturday; if either partner red-points an 11c, the team is bumped up to the Advanced category

Advanced - routes up through 12d are red-pointed on Saturday; if either partner red-points a 13a, the team is bumped up to the Open category

Open - routes 13a or harder are red-pointed on Saturday by either partner
Rules
Only the routes and walls on the 2019 Rodeo Hall of Fame List count for this competition!

Routes must be red-pointed to count. (This means no falls or hangs or aiding of any kind, and anchor must be clipped!) Be honest.

You must use the official score card during the competition and turn in the one you used - no exceptions! The score card will be available at ICF registration, the WyoClimbers booth, and on Saturday morning during the pre-rodeo roundup meeting.

All competitors need to be at the Saturday morning pre-rodeo roundup meeting at Wild Iris Main Wall parking lot at 7:30 am. Breakfast will start up there at 7, so you should have time to eat some pancakes and bacon, glug some coffee, and get organized.

The Limestone Rodeo starts at 8:00 am on Saturday morning from the Wild Iris Main Wall parking lot. This is a group start - see above bullet point…

The Limestone Rodeo ends at 4:00 pm. All score cards must be turned in at the WyoClimbers info booth at the Wild Iris Main Wall parking lot by 4:00 pm. No exceptions!

Competitors need to tally their own points carefully. We are asking that you sign your score card beneath your name to verify that information is correct and honest. Cheaters will be tarred and feathered and forced to run back to Lander.

There will be a shuttle for the first 30 Limestone Rodeo participants who sign up for it at festival registration. Once details are provided about the routes and crags on the Hall of Fame list, you'll see that some of you may want to drive your own vehicles!
NOTE: You need a partner for this competition, and both names are needed for sign-up in addition to a team name.
P.S. There is a cash purse for category winners and the overall individual winner. There are also great prizes for the top three teams in each category from Outdoor Research and our other high-level sponsors.
P.P.S. There are also going to be some "surprizes" for teams that achieve certain bonuses.
P.P.P.S. This is meant to be a fun, friendly competition in the spirit of the Climbers' Festival, celebrating community and enjoying camaraderie. Don't be intimidated - we hope you'll participate!