Don't Miss Out!
The International Climbers Festival features both free community events and exclusive events for attendees. Ticket holders can enter raffles, compete in competitions and sign up for clinics. Non- ticketed attendees can explore the Art Crawl (40+ vendors and artists!), peruse the trade fair, meet new people, experience the climbing community, and enjoy free music Wed - Saturday at the Forge and Lander Bar.
Below are some of the Main events you won't want to miss. For more, see the schedule.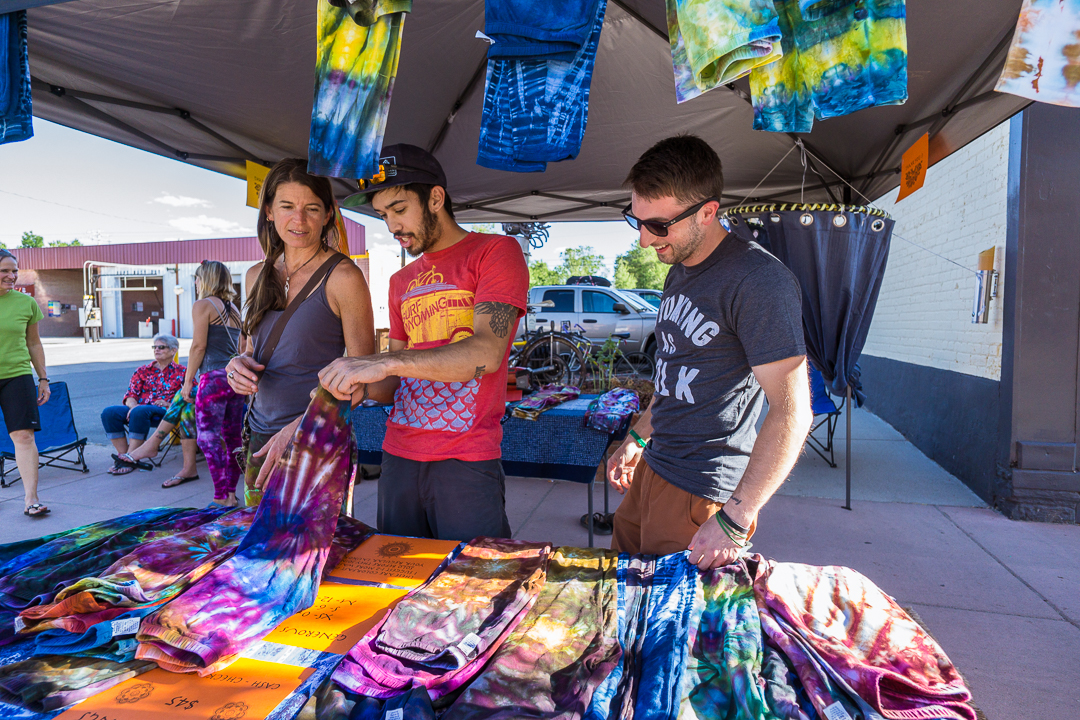 photo: Carlos Romania Flores
The Central Bank & Trust Art Crawl
- Free Community event
Thursday July 11th 3:30pm - 6pm
Lander Main Street, 4th to 1st
Start at The Middle Fork at 4pm with live Jazz music, appetizers, whiskey tasting, and Joe Arnolds art. Crawl toward the lander bar exploring over 45 different Artist Booths and sidewalk sales.
Music
- Free community events
Wednesday - Sat July 10th - 13th 8:30pm - 11pm
Lander Bar
adidas and five ten Keynote speaker series
- Ticketed attendees, $10 all others
Saturday July 13th 5-8:30 pm
Lander Community Center
Hear from the world's most elite climbers on topics ranging from overcoming failure and sense of place to first ascents around the world. Join us for happy hour, silent auction, and an athlete poster/book signing at 5pm. At 6:30pm awards and speakers.
BUTORA PresentS the Boulder Bash
- Ticketed attendees
Wednesday July 10th 8pm - Midnight
Outdoor Bouldering, Sinks Canyon
Free food and beverage
Swag by: Boulder Denim, Five Ten, Goal Zero, Kinetik Climbing, Scarpa, Butora, Joshua Tree Skincare and more
Demo's by Five Ten, Scarpa, Butora, Kinetik,
Photo Shoot with: Butora and Boulder Denim
First 45 people to sign up via the clinic page may attend
La Sportiva Opening Party
- Free Community event
Thursday July 11th 7:00pm - Midnight
Gannett Grill and Cowfish Patio's.
7pm we will start signing folks up for the legendary pull-up comp. Three categories, three winners.
Our first raffle drawing will happen, free swag will get tossed out and Forkroot will take us into the wee hours of the night with their rootsy folk Irish bluegrass magic.
Trade Fair & Scarpa Dyno Comp
- Free community event
Friday July 12th 2pm - 8pm
Lander City Park
Clinics
- Ticketed Attendees
Thursday - Saturday 9am - 2pm
Will be open for registration June 1st
Shuttles provided from Lander City Park to Wild Iris clinics and back. Shuttles will run once in the morning (9am) and return to Lander at 2pm, 3pm, 4pm. see Travel and Transit for more details.
Clinics will be opening up in late May or Early June. Clinics will mostly run Thurs and Friday this year. There will be a few beginner clinics on Saturday.
Learn to Lead
Develop your Mental Game
Strategies for Red Pointing
Intro to Trad Climbing
Understanding Fixed Hardware Types, Placement, and Appropriate use
.. and many many more
Competitions/Raffles
- Ticketed and free
All Festival Long
Various Locations
There is a Festival Long Competition Wed-Sat that will take you to unique crags, historic places, and businesses you didnt know existed.
The Trade Fair features mini comps hosted by Vendors that are free to the public and events like the Dyno Comp and Crate Stacking for Ticketed attendees.
Saturday features a 7 hour redpoint comp with team and individual categories as well as athlete competitors.