Raffles
Raffle tickets will be provided to ticketed attendees with their registration bag.
Additional tickets for grand prize raffle can be purchased by ticketed attendees only. Proof of ticket will be requested.
click here to see who is providing prizes
Raffle drawings time and place
Wed July 10th - Outdoor Research Mini Film Festival 7pm
Thursday July 11th - La Sportiva Opening Party 8pm and on
Friday July 12th - Scarpa Dyno Comp 8pm
Saturday July 13th - Adidas Keynote Speakers Series, Inn at Lander, 8pm
Grand Prize raffle - drawn at Adidas Keynote Speaker Series
2018 Included: Yakima Skybox 18, rope, draws, yeti cooler, yeti tumblars, La Sportiva clothing, Black Diamond pack, Patagonia gear, Friction chalk, and more....
Tickets will be 1 for $5 5 for $20 - can be purchased at WyoClimbers booths, cash or credit, need a Festival Ticket to participate.
Competitions
Warning: Rock Climbing is Dangerous.
All Participation in Competitions and Festival Activities is Voluntary. any risk taken is the sole responsibility of the person/s taking it. some areas listed in competitions require competence with Traditional climbing techniques and systems. Others require 4x4 access to reach. CWCA and ICF are not responsible for ensuring the competence or sound decision making of participants with regard to any event or activity listed or described here or on this website.
Disclaimer: The auction, comps and subsequent climbing activities are completely voluntary. It is the responsibility of climbers, bidders and climbing volunteers/professionals to determine their individual suitability for the climbing activities as well as the suitability of their partners. Participants understand and agree that CWCA its officers, trustees, agents, directors, staff, employees, including volunteers and interns make no guarantee or warranty regarding other participants' judg- ment, ability, or competence. CWCA disclaims all warranties (both express and implied) including, without limitation, warranties of merchantability and warranties of fitness for particular purpose. All parties participating in this competition, auction and subsequent rock climbing activities agree that CWCA has no responsibility for the actions of any participant. Each partici- pant in this competition, auction and subsequent climbing event takes responsibility for their own actions and is responsible for making the decision to climb with any other during the day of climbing. CWCA does not require that any two individuals climb together and will return any partici- pant's donation made during the auction should an athlete or participant determine the other is not a suitable climbing partner. Remember, rock climbing includes risks. You are responsible for your own decisions.
Limestone Rodeo Red-Point Comp - 2019
RODEO RULES THIS YEAR HAVE CHANGED!
Ticketed attendees only
The Limestone Rodeo 2019 is a red-point competition with some fun rodeo-themed bonuses. Competitors are only allowed to climb routes that are in the 2019 Rodeo Hall of Fame, a list of 100 2-3 star routes. Point values are assigned to each route, roughly based on grade but with some added twists. It is a partner competition where partners much match each other pitch for pitch but not route for route. Up to the top 10 routes in terms of point value will be counted for each partner towards the team total. Bonuses must also be matched by partners to count towards the team total. Routes can be "double-dipped", i.e. used for the main top 10 and for applicable bonuses. Each category (Open, Advanced, Intermediate) will have three team winners.
There will also be an overall individual winner of the entire Rodeo based on total points (top 10 routes plus any bonuses achieved by that individual, regardless of if partner achieved them).
Categories
Intermediate - routes up through 11b are red-pointed on Saturday; if either partner red-points an 11c, the team is bumped up to the Advanced category

Advanced - routes up through 12d are red-pointed on Saturday; if either partner red-points a 13a, the team is bumped up to the Open category

Open - routes 13a or harder are red-pointed on Saturday by either partner
Rules
Only the routes and walls on the 2019 Rodeo Hall of Fame List count for this competition!

Routes must be red-pointed to count. (This means no falls or hangs or aiding of any kind, and anchor must be clipped!) Be honest.

You must use the official score card during the competition and turn in the one you used - no exceptions! The score card will be available at ICF registration, the WyoClimbers booth, and on Saturday morning during the pre-rodeo roundup meeting.

All competitors need to be at the Saturday morning pre-rodeo roundup meeting at Wild Iris Main Wall parking lot at 7:30 am. Breakfast will start up there at 7, so you should have time to eat some pancakes and bacon, glug some coffee, and get organized.

The Limestone Rodeo starts at 8:00 am on Saturday morning from the Wild Iris Main Wall parking lot. This is a group start - see above bullet point…

The Limestone Rodeo ends at 4:00 pm. All score cards must be turned in at the WyoClimbers info booth at the Wild Iris Main Wall parking lot by 4:00 pm. No exceptions!

Competitors need to tally their own points carefully. We are asking that you sign your score card beneath your name to verify that information is correct and honest. Cheaters will be tarred and feathered and forced to run back to Lander.register Lander City Park Friday July 13th. We are accepting:
20 teams 5.11 and up
30 teams 5.11 and under
Official Limestone rodeo Comp Sheets will be handed out the morning of the event at:
6:00am to teams who registered the day before in Lander City Park.
All teams must ride the shuttle.
Comp sheets must be turned in by 4:30pm to the WyoClimbers booth in Wild Iris Crag Parking Lot before boarding the shuttle
*late sheets will not be accepted
*hand written sheets will not be accepted
*You can NOT turn your sheet in at the keynote this year.
Rules and Other details - must take shuttle
Competitors will meet in Lander City Park by the pavilion and WyoClimbers Booth to check in and pick up comp sheet on Saturday July 14th 5:30am. Breakfast is provided!
Comp officially ends on Saturday July 14th 4:30pm before the Keynote Speaking Event, Inn at Lander. Comp Sheets must be turned in to the Wyoclimbers booth in the Wild Iris Crag Parking Lot on Limestone Mountain Road by 4:30pm.
Late sheets will not be accepted.
6:30 Am we will board shuttles and head to Wild Iris Crag. Shuttles will return to City Park at 3:15, 3:45, 4:30 on this day. The Comp starts as soon as you get off the shuttle.
Highest individual score is entered into individual category.
Other Comps in 2018 (2019 Comp Details Coming Soon!)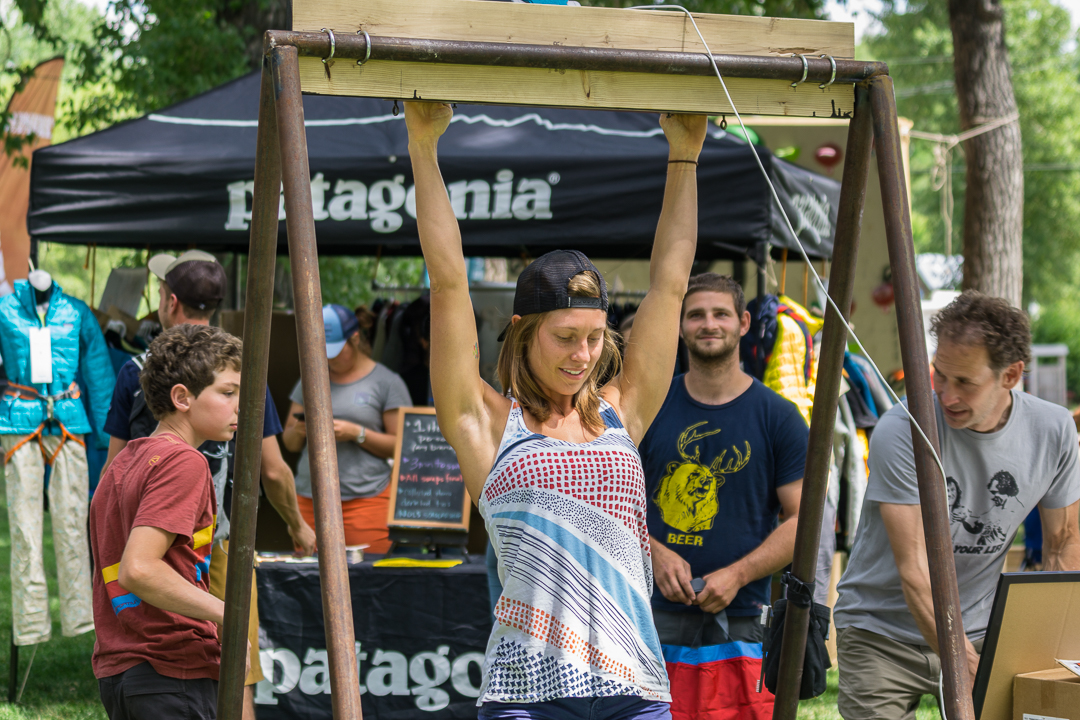 PRE-FESTIVAL DRAWINGS AND ONLINE COMPS
OUTDOOR RESEARCH FILM SHORT - Outdoor Research is taking submissions for their Adventure Film Festival at ICF 25!
Theme: Spirit of Climbing
Length: 2-6 minutes
Deadline: May 1st
$500 gift certificate from Outdoor Research
Have their film screened at the International Climbers Festival on July 10th 2019
Have their film featured on our website
Click this link to learn more about how to submit, format, and details on prizes!
Butora - Boulder Bash Photo shoot
Boulder Denim is giving away 5 pairs of free Jeans and a photo shoot at the Boulder Bash! The winners will also get a new pair of Butora shoes!
Click here to enter! Boulder Denim hosts this drawing.
Must be registered Festival Attendee to win.
Climbing Magazine - Writers competition
Climbing Magazine is taking submissions! This is your chance to be published.
Theme: Think globally, act locally as an outdoor enthusiast
Length: 500 words
Deadline: July 3rd
Prizes: Published in Climbing Magazine, have your piece read at ICF's keynote event, Edelrid Boa Eco 60m and 5 bulletproof quickdraws!
How to enter: https://www.climbing.com/news/wyoming-climbing-festivals-writing-competition/
Thursday July 12th - 7pm Sign up 7:30 - 9pm - Pull up comp -Ticketed attendees only
LA SPORTIVA AND CLIMBSTRONG PULL UP COMP- opening party at the Lander Bar.
Stop by the WyoClimbers Booth from 7pm to 7:30 to sign up. First 15 sign ups in Youth, Mens, Womens categories will compete
Strict Pull - ups monitored by the folks at ClimbStrong
One chance to perform your highest number of reps
Prize - La Sportiva shoes
Friday July 13th - Trade Fair lander City Park - 2pm -6pm
Crate stacking - sign up at the WyoClimbers booth. First 10 in Mens and Womens (this includes youth) will compete. Comp begins at 3:00pm
Ticketed attendees only
Beam Carry - sign up at the WyoClimbers booth. First 10 in Mens, Womens, and Youth will compete. Comp begins at 3:30
Ticketed attendees only
Table Bouldering With ORGANIC CLIMBING - sign up at the WyoClimbers booth. First 10 in Mens, Womens (this includes youth) will compete. Will be held at the Organic Booth starts at 4pm.
Ticketed attendees only
Edelrid Rope Coiling Contest - A Festival Tradition! This is ongoing during the Trade Fair. Head to the Edelrid booth to see how fast you can coil a rope! Winner gets a new rope.
Guess the weight with Weigh My Rack - Stop by their booth to take a guess and win big
More comps, mini raffles, and give aways happening at other booths as well - Over 45 brands participating!
Friday July 13th - Trade Fair lander City Park - 6pm-8:30pm Scarpa Dyno Comp -Ticketed attendees only
Sign up at the WyoClimbers Booth any time during the Trade Fair. Mens, Womens, and Youth category
First 12 in each category will be entered. One winner each category
Raffle prize drawings, free swag, good people, Scarpa hosts. Come cheer on the competitors or compete yourself!